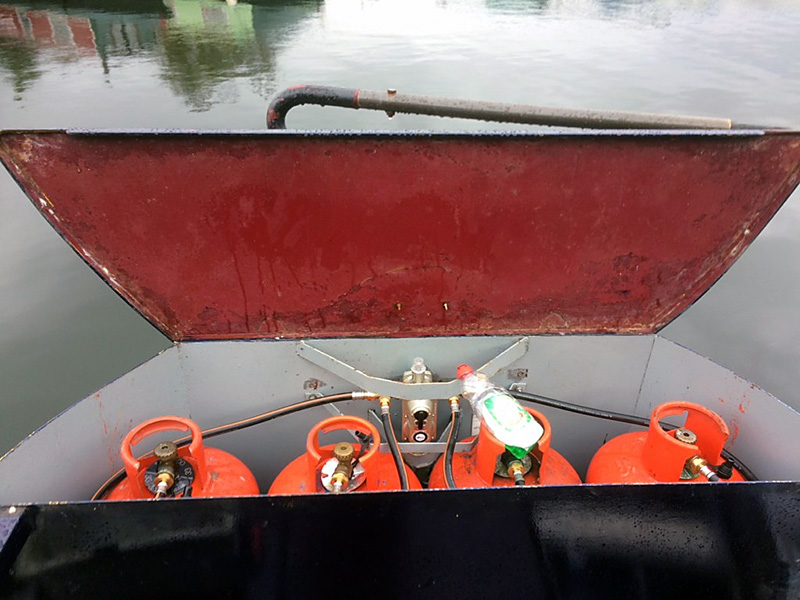 Well, what a year! Very different from the previous few years with Wye Invader Two, On the day we returned from Bristol after travelling down with "Innisfree" (now re-named NutCracker) Boris Johnson 'Locked down' the UK which effectively meant no more trips for a few months. When Lockdown was eased we managed a few trips to Gloucester and Tewkesbury and then our first attempt at Maisemore Weir which had to be abandoned halfway through, two weeks later a second attempt was made, this time successful and which, created a huge interest on our Website, Facebook and YouTube pages.
I suppose it's fair to say "time and tide wait for no one", I've just had a look at my Boat Safety Certificate and it expires on the 21st January 2021, where has the time gone? so I've made arrangements for Wye Invader Two to be lifted off the Sharpness and Gloucester Canal by
Sharpness Shipyard and Dry Dock
,
I've inspected the gas bottles and the 4 head delivery and assembly system as they are over 10 years old and I've replaced the delivery head and connections.
A provisional list to be completed over the next 5 months:
Renew Boat Safety Certificate.
Lift boat out onto hard standing.
Pressure wash hull, repair and repaint as necessary.
Remove engine, repaint interior of engine bay.
Service engine and replace fuel filters.
Replace Anti-freeze with long life Anti-freeze.
Service gearbox.
Check propeller and stern-tube assembly.
Remove and repaint the non-slip paint on the cabin roof.
This should keep us busy and out of trouble over the Winter and hopefully prepare Wye Invader Two for the season in 2021.
Back